Newsletter for 
 individual employers and 
 those who support them 
 November 2020 
 News and updates 
Flu vaccination programme to include PAs
All PAs are now eligible for a free flu vaccination from their GP or a local community pharmacy.

Flu is a serious illness that can cause severe complications and death. Vaccination helps prevent individuals from getting flu or from spreading it to patients and people who receive care and support. The flu vaccination protects you, your family and the people you care for.

The government has published promotional material about the Flu immunisation programme for social care staff, which includes guidance for PAs (personal care assistants).

To access the guidance, a leaflet about free flu vaccinations and a letter of entitlement for PAs click here.
COVID-19 antibody testing for personal assistants
Antibody testing is now available across England and is being provided free of charge to personal assistants.The antibody test is a voluntary blood test which detects antibodies to the COVID-19 virus to see if you have previously had the virus and will inform government research.

You cannot take the test if you currently have symptoms or have been advised to take the COVID-19 test. See 'Antibody Testing – Personal Assistants' on the information hub here.
Local COVID-19 alert levels and PAs
Following the introduction of the local COVID-19 alert levels and the implementation of additional restrictions in some areas, if your own local alert level becomes tier two or tier three, it is confirmed by the Department for Health and Social Care that personal assistants will continue to be considered as key workers. This means you can continue to deliver care in people's homes and maintain your status as a key worker. This status is set out in principle four of this guidance and is not anticipated to change.
Order your CARE badge
The Department of Health and Social Care is providing CARE badges free of charge to staff employed across the adult social care sector, including those working as personal assistants. This is to recognise their critical work, particularly during the COVID-19 outbreak.

For PAs to order a badge, they will need to create a new account on the online ordering services. To do this they need to give their name, delivery address, email address. There is an 'organisation name' section, which can be left blank.

Access CARE badges
 
 New resources 

New report: State of the adult social care sector and workforce in England, 2020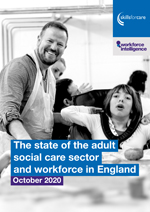 The latest report has now been published. It provides comprehensive analysis on: employment informationrecruitment and retentiondemographicspay, training and qualification informationfuture workforce forecasts. Thank you to all employers and providers that supplied information to inform this report, which is key to influencing long-term change.

Download a copy of the report and infographic
 
Employing PAs Toolkit – Easy Read
We've introduced new easy read versions of our Employing personal assistants toolkit and the booklets can be accessed on the information hub.

Our Employing personal assistants toolkit will help you to think about your responsibilities as an employer, and includes guidance, templates and resources about recruiting, training and managing your team.
 
Individual service fund guide
Following a pilot project in South West England Skills for Care has developed a new guide about workforce development for Individual Service Funds sharing key learnings and benefits of ISFs.

An Individual Service Fund (ISF) is one way of managing a personal budget, where someone who needs care and support chooses an organisation to manage the budget on their behalf. The organisation will help to plan support services and activities that will help them to achieve their identified outcomes.

To find out more information and download the guide please visit the website.
 
New supportive Care Certificate resources
We have developed additional resources which help to contextualise areas of the Care Certificate to different specialism areas which include: learning disabilitymental healthdementialone working. After some minor revisions these resources are now back on the website and ready to be shared with the sector. View resources here.
 

Annual health checks for people with a learning disability
Annual health checks are for anyone who's 14 or over and has a learning disability. It is a chance to review their overall health and any particular risks for them or any health concerns they have.

People with a learning disability don't always get the healthcare they need, so this check helps people make any lifestyle changes they choose to stay well, and to get the treatment they need at the right time, by finding out about any health problems early.

NDTi has produced a range of resources and links to other organisations' resources to support people with a learning disability and their supporters to understand more about annual health checks and how to get one. They also have resources for health professionals, and information about how annual health checks will need to be done differently during coronavirus.

Find out more on the NDTi website 
 
Funding Individual Employer Funding
People who directly employ personal assistants using a health or social care direct payment, or their own money, can ask for money for training. To find out more information and apply go to the website.

Training available via user-led organisations
Skills for Care has awarded grant funding to 20 organisations to arrange and deliver learning and development for PAs and their employers. To find out which organisations have received the funding and their training offer go to the website.
 Information hub updates 


COVID-19 pages
We've made updates to our COVID-19 specific pages on the information hub. Recent updates include: guidance for care staff who are supporting adults with learning disabilities and autistic adultsantibody testing – PAsflu Vaccination for PAsinformation from local support organisationsaccess to Work: factsheet for customersoverview of adult social care guidance on coronavirus (COVID-19)self-isolating after returning to the UK: your employment rightssupporting people outside of their homewhat to do if you are employed and you cannot work. Find out more here.
Recruiting PAs during a pandemic webinar
In September we hosted a webinar about recruiting during a pandemic. Watch the recording and download the resources and presentation here.  
Martha's story
Martha, a 26-year-old woman with Cerebral Palsy and Complex Post Traumatic Stress Disorder has been under the care of mental health services since age 16. Despite various approaches to try and help her, including several lengthy admissions to hospital, different therapies and out of county placements, by 22 she felt defeated and lost, like every avenue had been exhausted. That was until one simple question "What matters to you?" resulted in Martha receiving a personal health budget (PHB), which in turn has helped to transform her life. Read Martha's story here.  
 Events Learning and development, opportunities and accessing funding webinar, Thursday 5 November
This webinar will highlight the resources Skills for Care has that can support individual employers to develop themselves and PAs they employ. Delegates will hear about the benefits of learning and development, how to access funded training via local organisations, as well as how to ask for a grant to pay for training and qualifications (individual employer funding). Register here.

Future webinars Webinars Date Time Register to join Wellbeing Monday 16 November 14:15 – 15:15 Link Understanding employer responsibilities Friday 27 November 10:00 – 11:00 Link Supporting better conversations Wednesday 9 December 14:00 – 15:00 Link Be Human Partnership webinars
The Be Human partnership, which is facilitated by In Control. Have been hosting a series of webinars since the start of COVID-19 to help people and families gather information and practical tips. These have included discussions on finding and employing PAs. You can find recordings, and questions and answers from past webinars, together with upcoming webinars here.
 Resarch and reports Think Local Act Personal (TLAP)
TLAP is completing an external review of its work and impact by asking people to complete a short survey to gather different perspectives to help plan for the future. If you've used TLAP resources before and would like to take part you can access the survey here.

Closing date 11 November and the survey is completely anonymous, you won't be asked for any personal data.
Core Capabilities Framework for Supporting Autistic People – Survey  King's College London (KCL) and the South London & Maudsley NHS Foundation Trust (SLaM) are working with Health Education England on a national project to identify and share a range of approaches to support health, social care and public facing workforces across England to use the Core Capabilities Framework for Supporting Autistic People (2019). As part of the project, they're gathering people's experiences of autism training, it asks about workforce and training initiatives relating to autism and autistic people, their significant others (e.g. family members and carers) and all public facing professionals from any setting can share their experiences through this survey. The survey takes 15-25 minutes to complete and you'll be entered into a prize draw to win one of 20 vouchers worth £25 Take the survey Find out more about the framework
A Telling Experience
A new report from the Think Local Act Personal (TLAP) Insight Group highlights how the first phase of the coronavirus pandemic affected people who use care and support services.

The impact of the coronavirus (Covid-19) on people who work as social care Personal Assistants
Kings College London has published the results of a study which explores the impact of COVID-19 on the working relationship of PAs with their employers or how this virus has impacted more generally on their employment relationship.
Get involved on Twitter using hashtag #PAFramework
Skills for Care Ltd, West Gate, Grace Street, Leeds LS1 2RP
Registered company no.3866683. Registered in England
Registered charity no. 1079836. Group VAT no. 135 5383 15
unsubscribe from this list